Healthy Screen Habits "Working Webinar" Course
Hosted by Dr. Cindi Britton and Nicole Rawson
for parents, advocates, teachers and young adults
Understand The True Impact of Youth Digital Media Consumption
You know you are in the right place if you are a parent, youth advocate, young adult, or teacher!
This co-hosted webinar by Nicole Rawson and Dr. Cindi Britton will help you better understand brain development, the risks of screen time AND solutions to prevent digital media overuse (DMO).
During the webinar you will understand WHY screen time gets in our way to be healthy, happy, well adjusted humans and what steps parents and young adults can take to improve focus stamina, behaviors, grades, and mental health -- all of which are greatly impacted by screen time. Learn about how it affects brain development, academic focus stamina, athletics, and critical social emotional skills.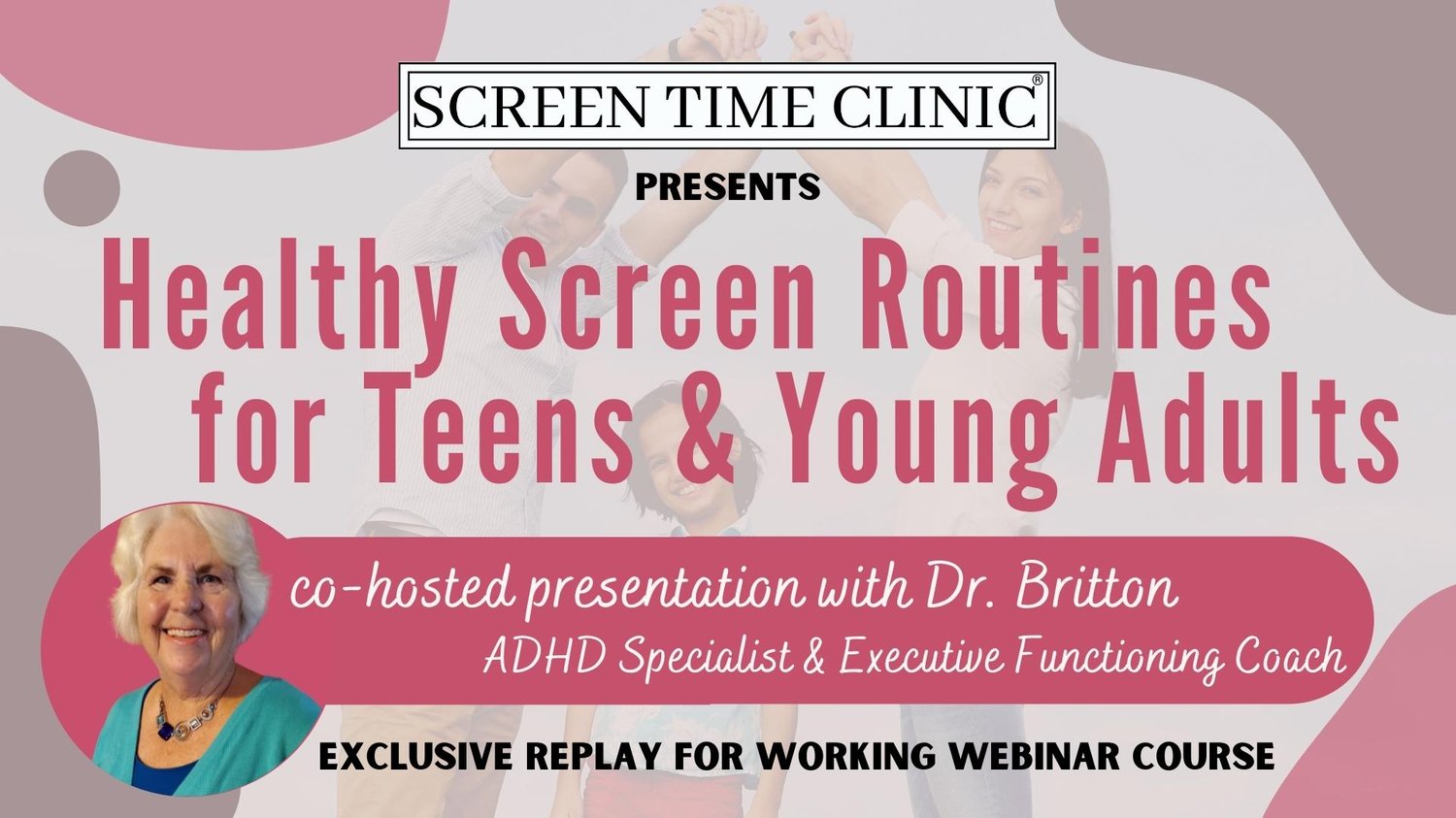 Gain Clear Understanding of Risks and Solutions
Discover the risk factors for media overstimulation including children on the autism spectrum, ADHD, behavior disorders, male gender, and 20 other areas that impact brain sensitivity including:
Younger Age When Exposed to Media
Male Gender
ADHD/ADD tendencies, even without formal diagnosis
Obsessive or Compulsive Behaviors
Autism Spectrum Disorder
Mood, Behavior, Attention, Anxiety Disorders
Sleep Disorders
Sensori-Motor Disorder
Academic Inattention
Low Reading Level
Poor Social Skills
Family History of Addiction or Mental Illness
Premature birth
Go at Your Own Pace
PLUS learn about solutions to protect against these risks and become inspired to make changes to balance screen time in your home with this educational webinar. Now is the perfect time to reclaim your motivation and strengthen relationships, by guiding youth to mindfully use screen time and reset potentially harmful pandemic tech habits spending too much time on screens due to the addictive design of apps and games!
Go on to the next lesson to view this fast paced, informative webinar that is sure to inspire you to help families rethink healthy ways to use technology as a tool and not let it control your future, dull your brain function, and monopolize your time.
Preview Course Curriculum
1

Smart Screen Habits Working Webinar Course for Parents, Young Adults, and Advocates

Healthy Screen Habits Webinar

Craft Your Plan: Comprehensive Media Guide