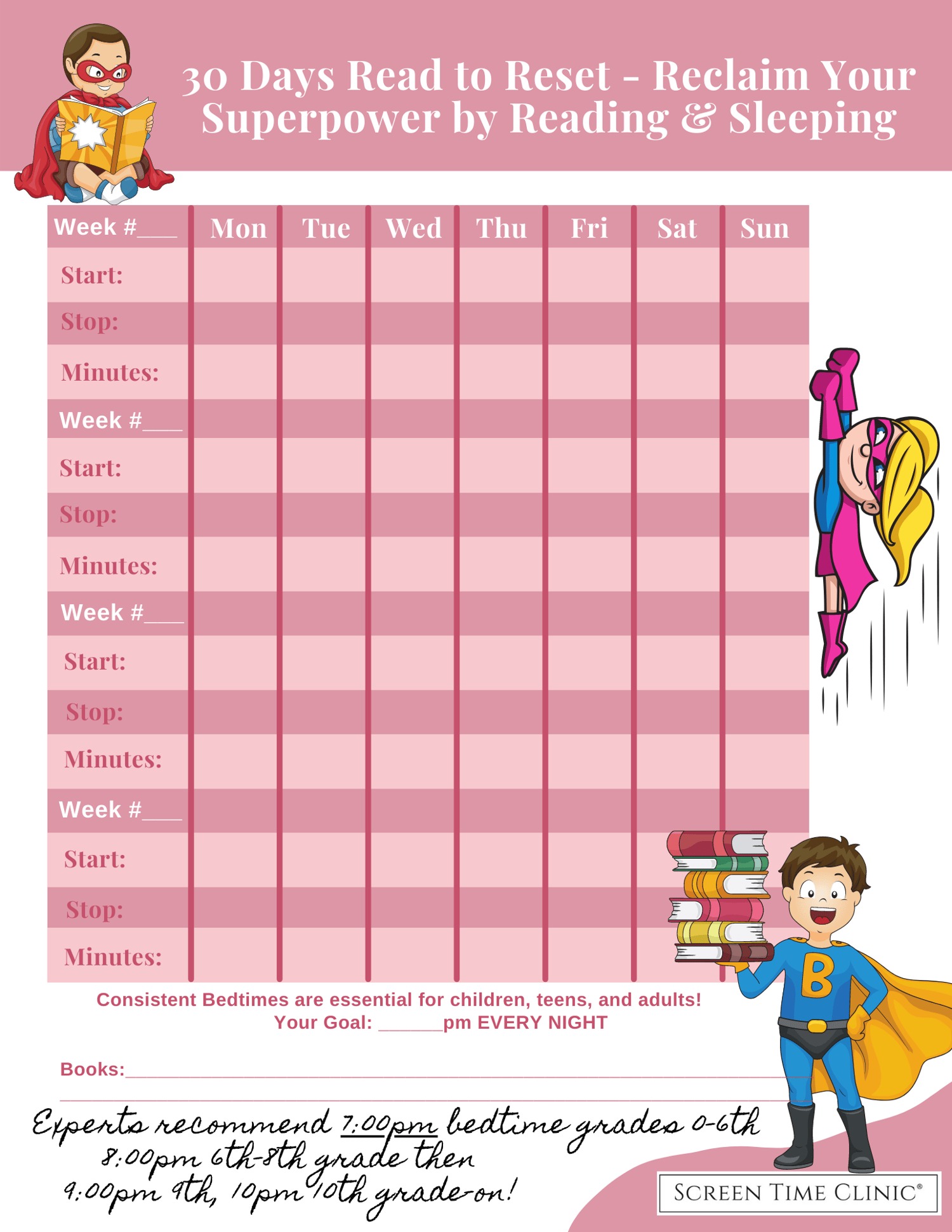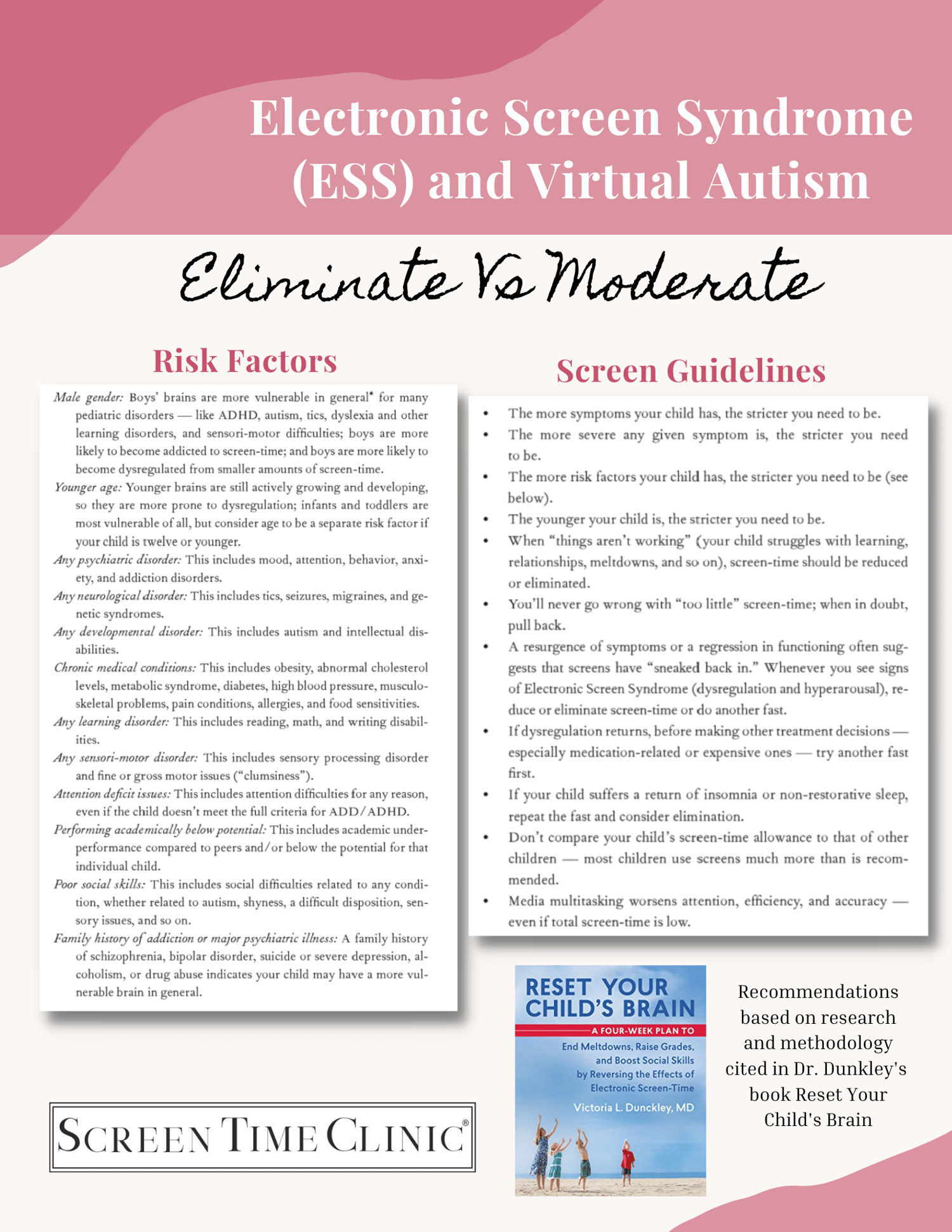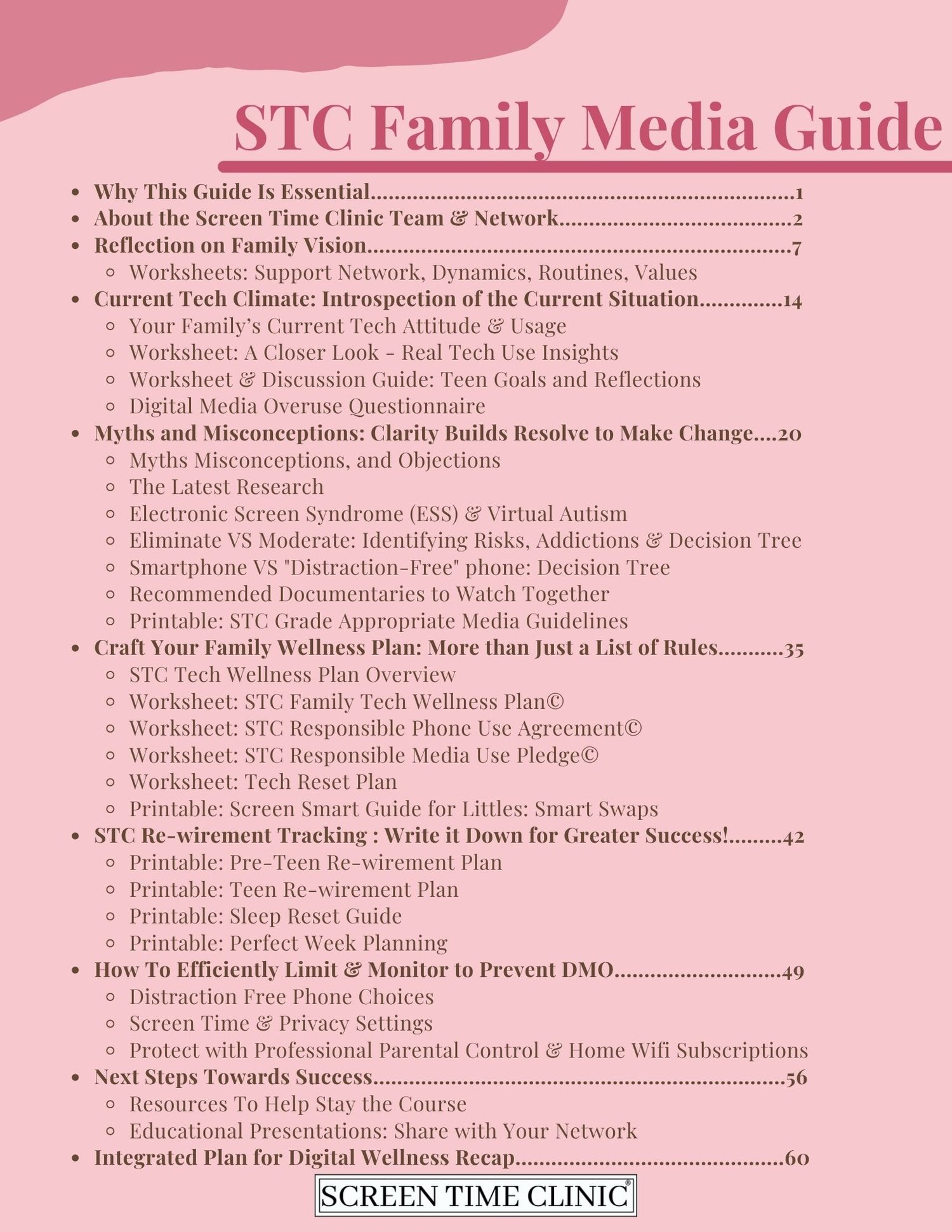 Family Media Guide For Digital Wellness
On Sale
$19.95
Updated on a quarterly basis, this is THE best resource to guide families to make smart screen choices in 2023. Too many books to read without the practical, proven tools you need? Want to protect your family with proven methods based on values and routines, not a list of rules?

Look no further than Screen Time Clinic's 60 page Tech Wellness Guide eBook -- the perfect amount of concise and up-to-date information you need to make informed decisions plus over 20 printables to guide your family!   It includes ALL the information you need to start conversations about what type of life you want for your child(ren) and how to support them in the digital age, crafting a path for success that works for YOUR family. 

It includes links to studies about WHY limiting and monitoring is so important, help identifying special at-risk children, and HOW defining your family values to start making real changes in your home is esssential.

Everything you need to get BOTH PARENTS --or equally important build your own resolve as a single parent-- on the same page towards a new routine for your child(ren) or prevent a crisis from the start!

PLUS determine if your child is at higher risk for Electronic Screen Syndrom,Virtual Autism, and Addiction and if a detox vs reduction strategies -- or if free range no-restrictions are okay.  Every child is different!

Included is a customizable Responsible Use Pledge and Rewirement Plan for tracking new habits to clearly outline expectations and keep kids safe and accountable.  As an added bonus, our "Read to Reset Your Superpowers" Guide is also included, Perfect Week activity sheet to manage little's time, and You Got This guidance! 

Over 20 printable worksheets and guides, everything you need to make change yourself-- or have on of our digital wellness educators help you REALLY set your intentions into action. Booking a 90 minute "family empowerment meeting" (select a coach, and book on their calendar) to take you through this process step by step if you get stuck doing it on your own. You got this! We can help!

Building healthy habits is more than just restricting time online, it's living a life by design.